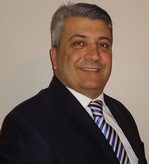 518-210-6488
518.456.2690 fax
518-210-6488 cell phone

[email protected]
2390 Western Avenue
Guilderland NY, 12084
Receive Email Alerts from Me
As a dedicated and honest agent I am available to help you with all your real estate needs.  Please feel free to contact me if you have any questions about buying or selling a home.  Also, don't hesitate to call if you have general questions about the market, financing options, etc.   As a member of Team McCabe we want to help make sure your total experience is seamless as possible.                                     
My work experience has always been tailored around selling and negotiating the best possible deals for my clients.  I have a strong sales background which covers 30 years of experience in the food industry.  I want to offer you my strong selling knowledge to help you achieve the best possible real estate transaction.
I have been a Capital Region resident for most of my life and graduated from the College of Saint Rose with a B.S. in Business Administration/minor in Management.  I have won many awards as a sales executive when I worked for a fortune 200 company and was recognized with national level awards for driving winning sales results.
My family is an important piece to my success with my wife Sandra of 14 years and my daughters Isabella and Mikella. 
Feel free to give me a call anytime at (518) 210-6488.