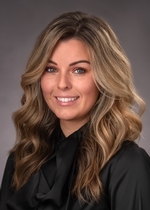 518-396-8031

518-396-8031 cell phone

[email protected]
2390 Western Ave
Guilderland , 12084
Receive Email Alerts from Me
A Clifton Park native, Liz holds a bachelor's degree in communications from Salem State University. She entered the real estate industry in 2020, just a few years after building her own home here in Clifton Park. She loved every second of the planning and designing process and couldn't imagine anything more rewarding than being a part of someone else's journey into home ownership.  
A tireless worker with contagious enthusiasm, Liz is the kind of agent who won't stop until her clients are 100% satisfied. She is extremely detail-oriented and prides herself on her ability to create an exceptional experience for buyers
and sellers here in the Capital Region.
Testimonials:
"Liz was the most awesome person I have ever met. Very professional and upfront with information necessary for us to make decisions. She was tolerant and very patient with our indecisiveness and uncertainties throughout the whole process... almost 3 solid months of it. Listened to us to try and figure us out 'cause she didn't know us. We're now in our home and very happy . I would gladly recommend Liz anytime!" pinkym854 Albany, NY 12203 01/21
"Liz was super helpful on my home-buying journey. I contacted her because I was previously working with another realtor who stopped responding to me and I needed to find a house ASAP. She worked with me to meet my deadlines and we set up a bunch of showings right away. When I found the house I wanted to buy, Liz was helpful in negotiating an offer and ensuring that the seller took care of the necessary repairs. She was responsive throughout the process and negotiated more when we found problems on the final walkthrough. I would recommend her!"  baldwinn18  Albany, NY 12203
"My family and I feel very fortunate that Liz was our agent. We were first time home buyers and she eased us through the process. Whenever we had a concern or question during the undertaking, she listened and made sure it was addressed. Her response to any communication was fast and she kept in touch throughout the process to make sure things were still moving along. I would definitely recommend her to others. She went out of her way to be helpful and kind during what would be a stressful time for anybody."  prlrocks  Albany, NY 12208